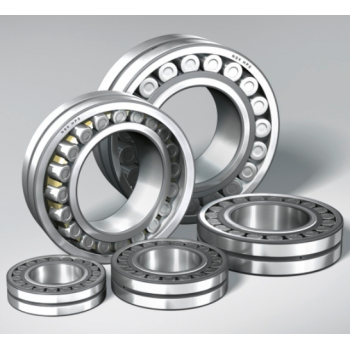 Cylindrical Roller Bearings
In bearings of this type, the cylindrical rollers are in linear contact with the raceways. They have a high radial load capacity and are suitable for high speeds.
There are different types designated as NU, NJ, NUP, N, NF (for single-row bearings), NNU, and NN (for double-row bearings depending on the design or absence of side ribs).
The outer and inner rings of all types are separable.
Some cylindrical roller bearings have no ribs on either the inner or outer ring, so the rings can move axially relative to each other. These can be used as free-end bearings. Cylindrical roller bearings,
in which either the inner or outer rings has two ribs and the other ring has one, are capable of taking some axial load in one direction Double-row cylindrical roller bearings have high radial rigidity and are used primarily for
precision machine tools.
Pressed steel or machined brass cages are generally used, but sometimes molded polyamide cages are also used.
Tapered Roller Bearings
Bearings of this type use conical rollers guided by a back-face rib on the cone. These bearings are capable of taking high radial loads and axial loads in one direction.
In the HR series, the rollers are increased in both size and number giving it an even higher load capacity. They are generally mounted in pairs in a manner similar to single-row angular contact ball bearings. In this case,
the proper internal clearance can be obtained by adjusting the axial distance between the cones or cups of the two opposed bearings. Since they are separable, the cone assemblies and cups can be mounted independently.
Depending upon the contact angle, tapered roller bearings are divided into three types; normal angle, medium angle, and steep angle.
Double-row and four-row tapered roller bearings are also available. Pressed steel cages are generally used.
Spherical Roller Bearings
Shown in the figures, types EA, C, CD, CA, which are designed for high load capacity, are available. Types EA, C, and CD have pressed steel cages; and type CA has machined brass cages. Type EA has especially high load capacity, features low torque, and has a high-strength cage.
An oil groove and holes are provided in the outer ring to supply lubricant and the bearing numbers are suffixed with E4.
To use bearings with oil grooves and holes, it is recommended to provide an oil groove in the housing bore, since the depth of the groove in the bearing is limited.
Thrust Cylindrical Roller Bearings
These are thrust bearings containing cylindrical rollers. They can sustain only axial loads, but they are suitable for heavy loads and have high axial rigidity.
The cages are machined brass.
Thrust Spherical Roller Bearings
These are thrust bearings containing convex rollers. They have a self-aligning capability and are free of any influence of mounting error or shaft deflection. Besides the original type, the E type with pressed cages for high load capacity is also available. Their bearing numbers are suffixed by E.
For horizontal shaft or high speed application, machined brass cages are recommended. For details, contact NSK. Since there are several places where lubrication is difficult, such as the area between the roller heads and inner ring rib, the sliding surfaces between cage and guide sleeve, etc., oil lubrication should be used even at low speed. The cages in the original type are machined brass.