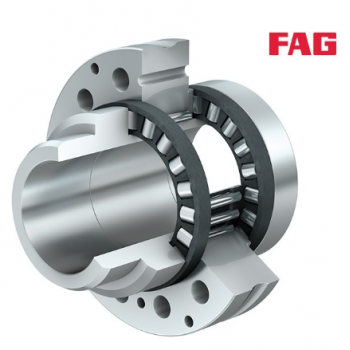 Screw drive bearing arrangements are subjected to requirements that often cannot be optimally fulfilled by the design construction of conventional bearings. In order to configure bearing arrangements for
the highly dynamic operating conditions in screw drives with high accuracy, high load-carrying capacity, high rigidity, low friction, easy fit and maintenance-free or low-maintenance design, INA/FAG has a wide
range of axial angular contact ball bearings. With this well thought-out product range, ideal application-specific solutions can now be found for all the technical and economic demands placed on the bearing
arrangements of screw drives.
Crossed roller bearing
Crossed-roller bearings are bearings for high-precision applications whose dimensions conform to ISO dimension series 18 as per DIN 616. They comprise outer rings, inner rings, rolling elements and plastic spacers.
The outer ring is split and is held together by three retaining rings.
Due to the X arrangement of the cylindrical rollers, these bearings can support axial forces from both directions as well as radial forces, tilting moment loads and any combination of loads by means of a single
bearing position. As a result, designs involving two bearing positions can be reduced to a single bearing position. Crossed roller bearings are very rigid, have high running accuracy and are supplied with normal clearance,
low clearance or preload. The bearing outer rings are easily fixed to the adjacent construction using clamping rings.
Rotary table bearings
Axial-radial bearings are double-direction axial bearings for screw mounting with a radial guidance bearing. These ready-to-fit, pregreased units are very rigid, have high load-carrying capacity and operate with particularly
high accuracy. They can support radial forces, axial forces from both directions and tilting moments free from clearance. ZKLDF axial angular contact ball bearings are low-friction, ready-to-fit, greased bearing units with high
accuracy for very high speeds, high axial and radial loads and high demands on tilting rigidity. Axial-radial bearings with angular measuring system YRTM and YRTSM correspond in mechanical terms to series YRT and YRTS
but are additionally fitted with an angular measuring system.
Slewing rings
INA slewing rings are known worldwide as premium products in the field of rolling bearing technology. These machine elements have proven themselves many times over; they have high load­carrying capacity, a versatile range
of applications and are highly cost-effective. Due to their design, a single bearing can reliably support radial, axial and tilting moment loads. It is therefore possible in many cases to replace bearing arrangements comprising a
combination of radial and axial bearings by a single bearing. This reduces ─ in some cases considerably ─ the costs and work required in the design of the adjacent construction and the fitting of bearings.
Slewing rings are sealed on both sides, lubricated with a high-quality grease, can be relubricated via lubrication nipples and are particularly easy to fit. The bearing rings are supplied without gear teeth or, in order to achieve
simple drive solutions, are available with external or internal gear teeth.
INA slewing rings are designed as four-point contact bearings and as Crossed roller bearing.
Track rollers, backup rollers and cam rollers
Ball bearing track rollers are self-retaining, single or double-row ball bearings with particularly thick-walled outer rings. In addition to high radial forces, these bearings can also support axial forces in both directions.
Yoke-type track rollers are single or double-row units mounted on shafts or studs. They comprise thick-walled outer rings with a profiled outside surface and needle roller and cage assemblies or full-complement rolling
element sets.
Cam rollers are similar in their construction to single and double-row support rollers, except that the raceway is formed by a heavy-section roller stud with a fixing thread and lubrication hole.
Proven application areas for these products include cam mechanisms, guideways, conveying systems and linear guidance systems.